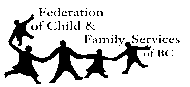 Contacting the Federation of Child and Family Services of BC can be accomplished in the following ways:
Email the main office at info@fcfs.bc.ca
If you are in the Victoria area, or want to send us snail mail, our address is:
414 - 1207 Douglas Street
Victoria, B.C. V8W 2E7
For those who need to hear a human voice, our telephone number is (250) 480-7387.
For your convenience we also have a fax number: (250) 480-7396.
Specific Email Addresses. Click on the email address to send mail to your favorite person or department:
We have committees working on a variety of issues, and your input is always welcome.
Some members have their own email addresses